10-Litre Kitchen Blender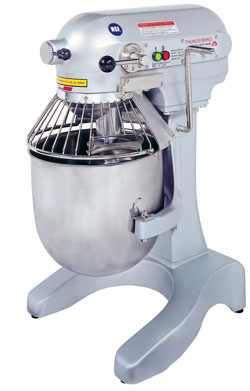 The 10 litre THUNDERBIRD stirring and kneading machine with three speeds was developed for intense use in catering, restaurant, hotel and bakery kitchens.
Mixing tools
The standard issue machine comes with a cauldron made of stainless steel, a flat stirrer, a dough hook and a whisk. These enable you to stir, whip and knead ingredients of different textures.
Technology
The Planetary Mixer is powered by a robust group of alloyed steel. That makes the stir and knead machine an efficient and reliable partner with all three speed options.
Safety grid
The ingredients chute inside the safety grid offers fast and safe addition of ingredients without the need of turning the machine off. The safety grid can be detached to decrease the cleaning time.
Version
Thanks to the permanently greased gears and the precision of their adjustment the machine is particularly quiet. Because of the alloy made of enamel paint on epoxy resin powder it can be cleaned effortlessly and quickly. The 10 litre blender is available with the following specs: 230 V / 1Ph / 50 Hz.
Extra equipment
A meat grinder can be attached to the front opening of the stirring and kneading machine.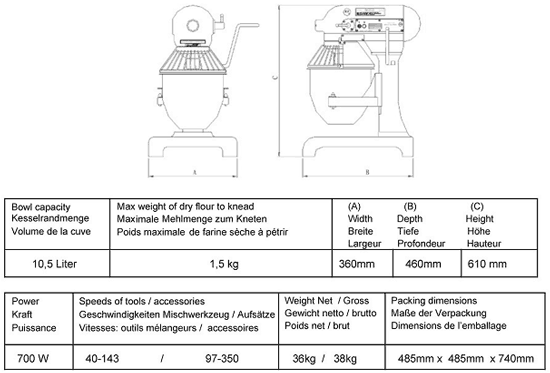 Overview Planetary Mixers