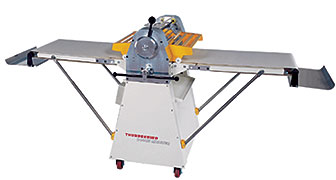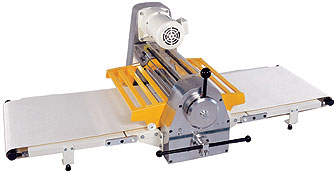 With the high-quality Thunderbird dough sheeters you immensely contribute to a rise in productivity in your bakery, pizza shop or restaurant.
Our electrically-operated models roll your dough fast and effectively, no matter if they're different types of dough like baguette, toast, hot dog or bread bun, flaky pastry, cookie, sheet cake, pizza, onion cake or tarte flambée.
At the same time our dough sheeters guarantee an even spread of dough on the conveyer belts coated with interchangeable material while at the same time making sure that the wanted thickness is achieved. You can adjust the thickness between 2 and 40 mm at the press rolls.
The press rolls made of stainless steel guarantee hygiene and a neutral taste.
The conveyer belts run at different speeds to prevent creases in the dough. You can change the speed by using a dedicated handle that is also used for changing the direction the conveyer belts are moving towards.
The dough conveyer belts can be tilted up which makes cleaning fast and easy.
With the expandable conveyer belts the dough sheeters can reach a width of up to 2.5 meters (width varies slightly between models).
You can get the Thunderbird dough sheeters as a pedestal model (TBD-500 and TBD-600) and as a tabletop model (TBD-500T).